Are you looking for ways to improve user experience on your Magento 2 website? Let us introduce to you the perfect solution: Magento 2 Mega Menu extension free. With diverse and flexible features, these Mega Menu widgets will help you create a special point and attract people at first sight.
What Are Magento Extensions?
Magento Extensions can be understood as extensions developed by the Magento community or third parties to upgrade the functionality of Magento e-commerce stores.
A Mega menu is an expandable menu with a multi-level drop-down that allows you to improve your primary navigation by elegantly showcasing all the links on your site. Mega menus can be arranged vertically or horizontally.
Benefits of Magento Mega Menu Extensions:
Boost navigation and user experience
Design custom layouts that match your brand identity
Ensure positive responsiveness on mobile devices
Seamless integration with other Magento extensions creates an overall professional website.
Top Magento 2 Mega Menu Extension Free
Free Magento 2 Easy Mega Menu – IBNAB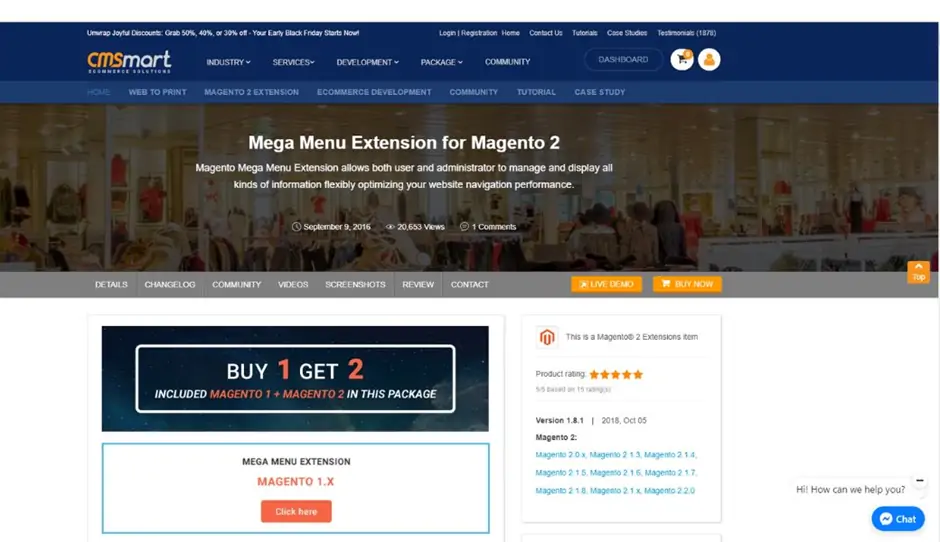 Easily add, remove, and edit menu items without coding skills; Mobile compatibility and flexible navigation menus are what this free extension offers you. With IBNAB Magento 2 Mega Menu Extension free, you can provide customers with a seamless and convenient shopping experience, helping them easily find their favorite products without spending too much time and making the payment conveniently.
M2 Menu Extension Basic Version – Land of Coder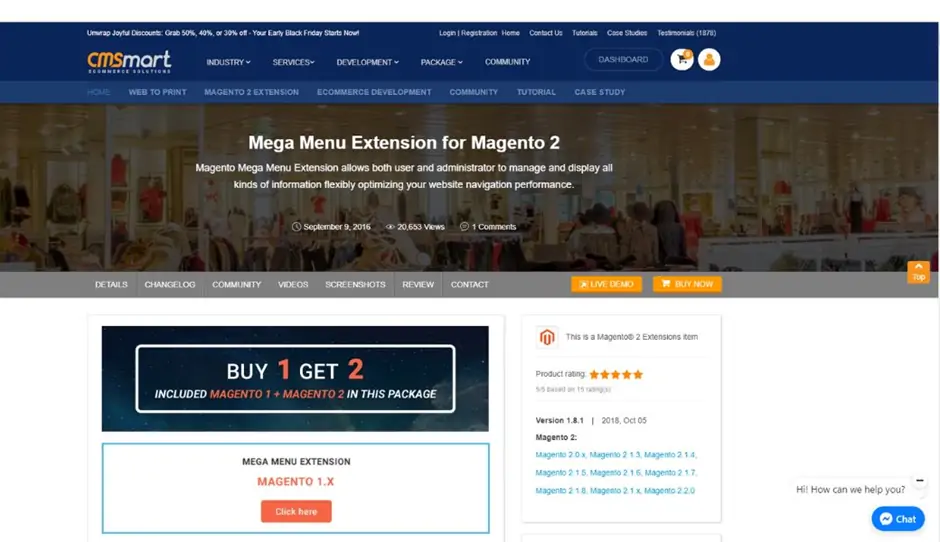 The basic version of Mega Menu Extension created by Land of Coder is the second name we want to mention in the list of Magento 2 mega menu extension free. Even with the Basic version, this extension still provides perfect features for you to design and adjust your store's unique Menu.
Possessing 7 sub-menu styles, 3 mobile menu types, drag-and-drop system and mobile compatibility, customer support for free installation, and 6-month free support, this is a great extended version. compared to a cost of 0 VND. So why haven't you tried using this utility yet?
Mega Menu Extension – Ubertheme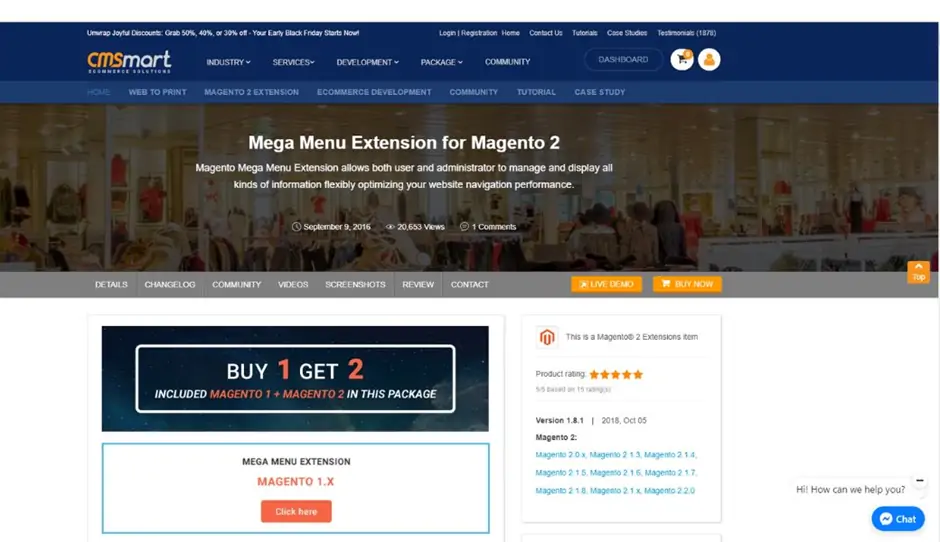 With Ubertheme Mega Menu, setting up a mega menu has never been easier. With just a few clicks with the Drag and Drop feature and flexible configuration options, you can create a large menu bar according to your wishes. Thanks to the Support of 3 types of menus: Custom Links, Pages CMS, and Catalog; Flexible layout allows horizontal and vertical display, compatible with tablets, and mobile phones, Mega Menu by Ubertheme is not inferior to any other paid extension, worthy is the optimal choice for small and medium businesses.
Top Paid Magento Mega Menu Extensions
Magento 2 Mega Menu Extension – BSS Commerce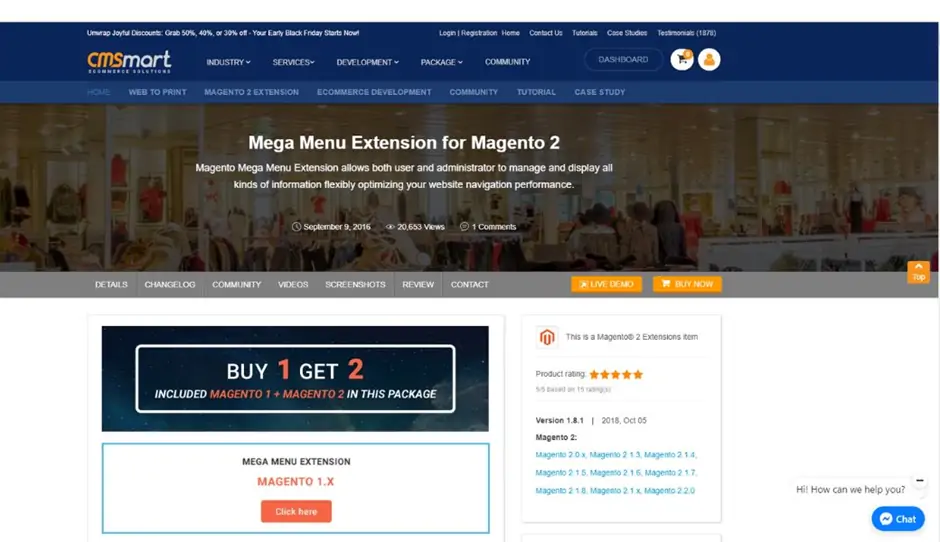 Topping the list of top-paid Mega Menu for Magento 2 is BSS Commerce's Magento 2 Mega Menu extension. Overcoming all the disadvantages of previous free Magento extensions, along with extremely competitive prices, this is an extension suitable for all businesses in all fields and sizes.
To be specific, this plugin focuses on improving and enhancing product reviews and store ratings. Realizing that many customers will not leave personal reviews but silently read the reviews of previous customers for fear of wasting time, BSS has created a more convenient and time-saving review feature: Helpful and Not Helpful – not only encourages customers to leave product reviews quickly but also helps increase customer interaction and enhance the store's reputation.
Besides, if customers are really satisfied with the product and want to share their satisfaction with others, the application also allows them to spread impressive feedback through social networking sites. As a result, this activity creates a word-of-mouth effect, helping your store attract more customers.
Price: $35/month
Highlight features:
Allows users to rate products according to various customizable criteria such as price, quality, etc.
Advanced product classification and filtering according to advantages and disadvantages. From there, we propose to rank products according to their level of usefulness in a certain time.
Allows customers to vote, rate products, and share useful/not useful, personal feelings via social networking platforms
Report review feature helps reduce the spam rate
Control access on the backend
Stick labels to highlight menu items such as Discounts, promotions, new arrivals, new collections, etc.
Flexible menu mode
Magento 2 Mega Menu – Magenest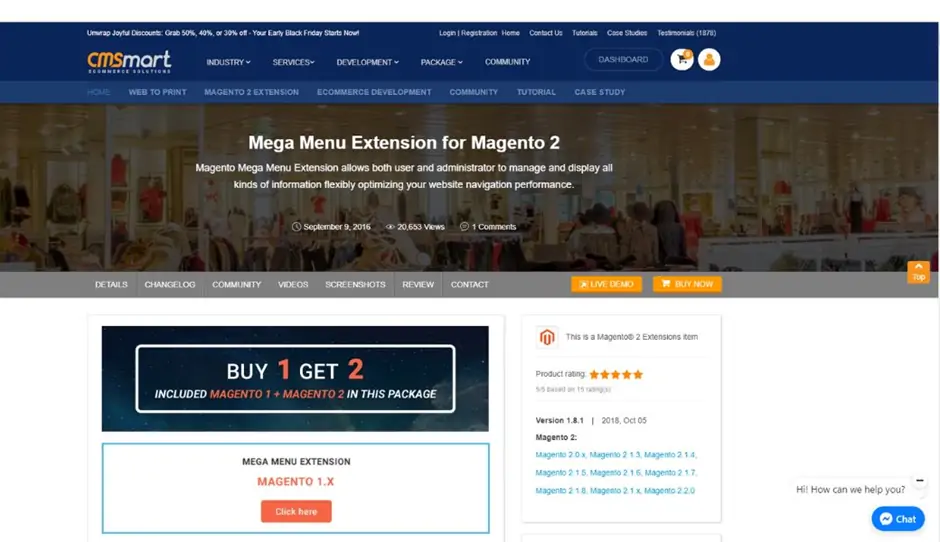 Magenest mega menu extension would be another choice if you are looking for a useful tool to create and optimize menu layouts flexibly. Thanks to it, you can create a visually appealing menu is an effective way to boost sales and impress your customers with your store.
Price: $169
Highlight features:
Allow users to add text, links, and photos to the menu
Support open source
Drag & drop or hyperlink-supported
Create labels and assign a label to each menu item
Ninja Menu – Magezon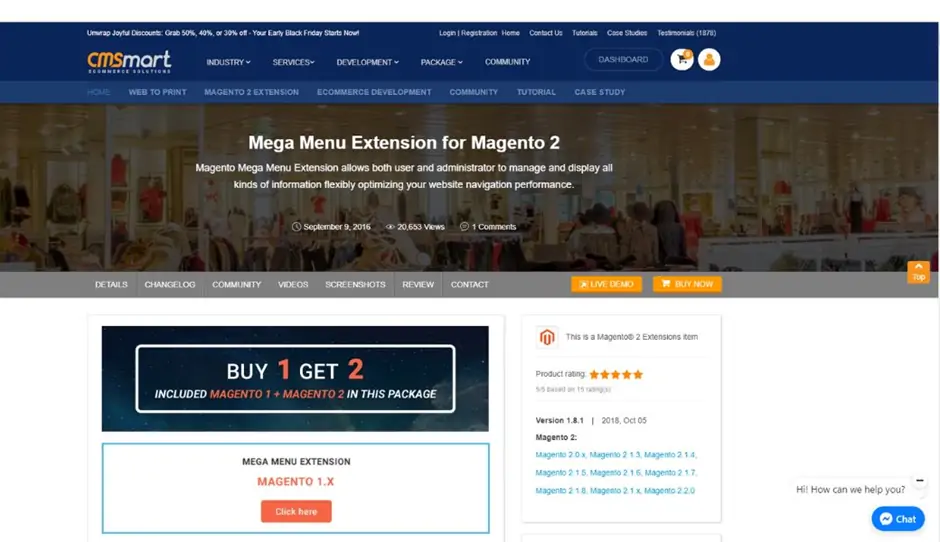 Wanna create beautiful menu layouts? Then Magezon Mega Menu will be your right destination. Fast, smooth, and creative are the 3 words to describe this app and those are the reasons why Magezon places an impressive awareness in customer's minds.
Price: $169
Highlight features:
4 types of menu displays, 11 elements support
Drag & Drop menu Builder
SEO Friendly
Support multiple stores, languages, and aftersales
Compatible with Magezon Page Builder, Hyva, Ultimo, and Porto theme
Magento 2 Mega Menu – MageDelight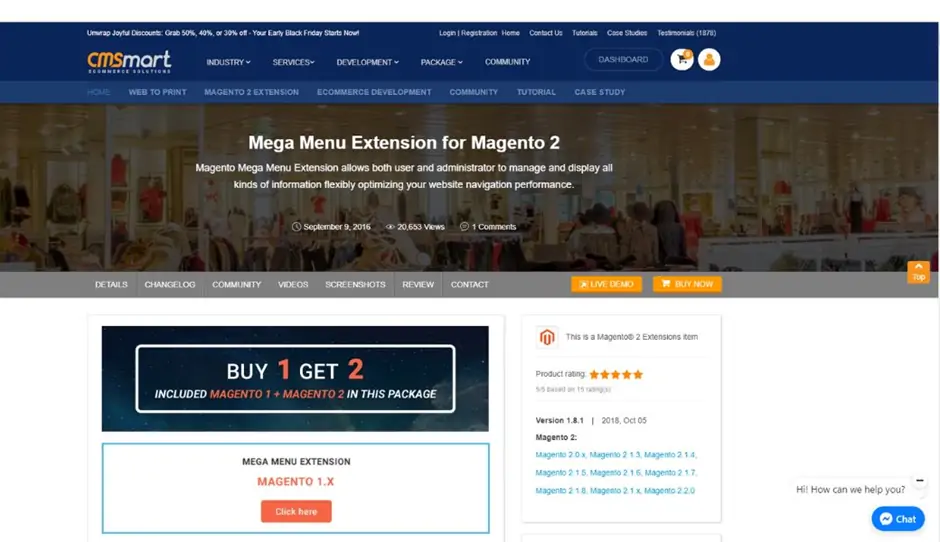 MageDelight is a basic and easy-to-use Magento Mega Menu extension. If you are planning to build a custom responsive mega menu, MageDelight will be the application you cannot ignore to make that wish come true thanks to its professional drag-and-drop system that does not require you to write anything. any line of code. With such great features below, this extension will serve your online store best.
Price: From $149 to $179
Highlight features:
Allow you to display high-quality images and videos in a mega menu
Category links/CMS pages/text blocks
Sticky menus
Animations effects
Include different design styles such as horizontal, vertical, drill down, etc.
Dragging & dropping menu fields which provide a seamless searching experience
Easy to set up everywhere.
Mega Menu Extension for Magento 2 – CMSmart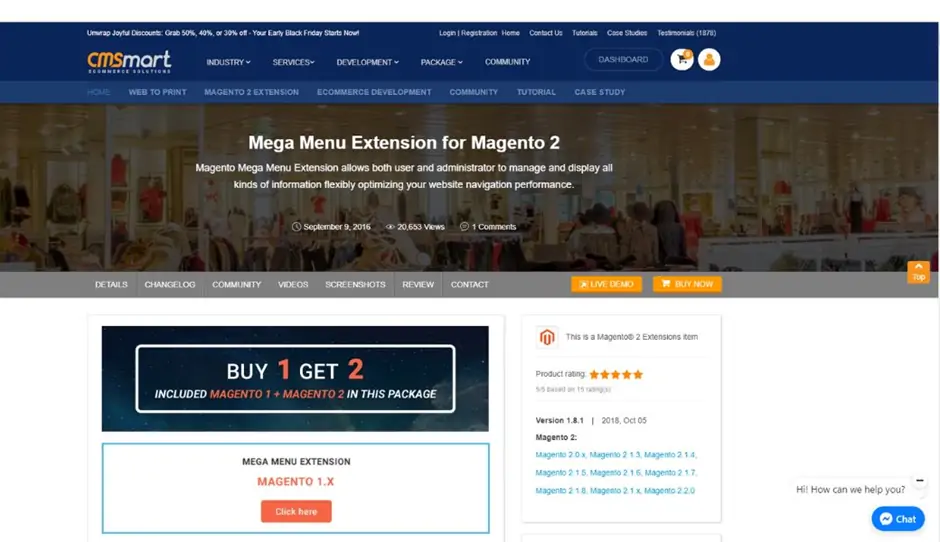 Mega Menu Extension by CMSmart is a flexible application that allows users to choose from many different styles for the store Menu. By using CMSmart mega menu extension, you can create a new look that is eye-catching but no less professional and sophisticated. This will be a highlight that helps keep customers staying longer on your website.
Price: $106.85
Highlight features:
Provide 7 types of mega menus for choosing
Easy to set up
Responsive menu for all devices, including laptop, tablet, and mobile device
Flexible mode in both horizontal and vertical mode
1-year private support
Unlimited ticket support
Lifetime free update.
Mega Menu Pro – Amasty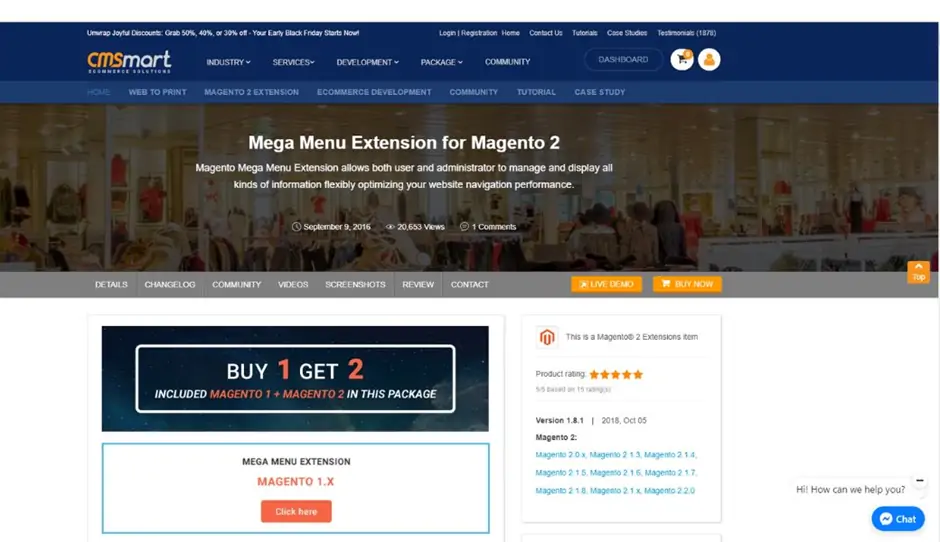 Enrich your store with advanced tools from Amsty Mega Menu For Magento 2 – Why not? With Amasty Magento Mega Menu extension, you not only create top-notch utility menus but also enhance user experience. The power and professionalism of this tool will certainly be a great means for you to enhance the value and uniqueness of your website.
Price: $199/month
Highlight features:
Flexible menu: Horizontal and Vertical
Compatible with many effects such as Fade, Toggle, and Slide
Width, color, and position custom support
Shorten site loading speed
Compatible with all devices, including mobile
No need to edit the CSS file for the mega menu selection.
Magento 2 Mega Menu Extension – Magetop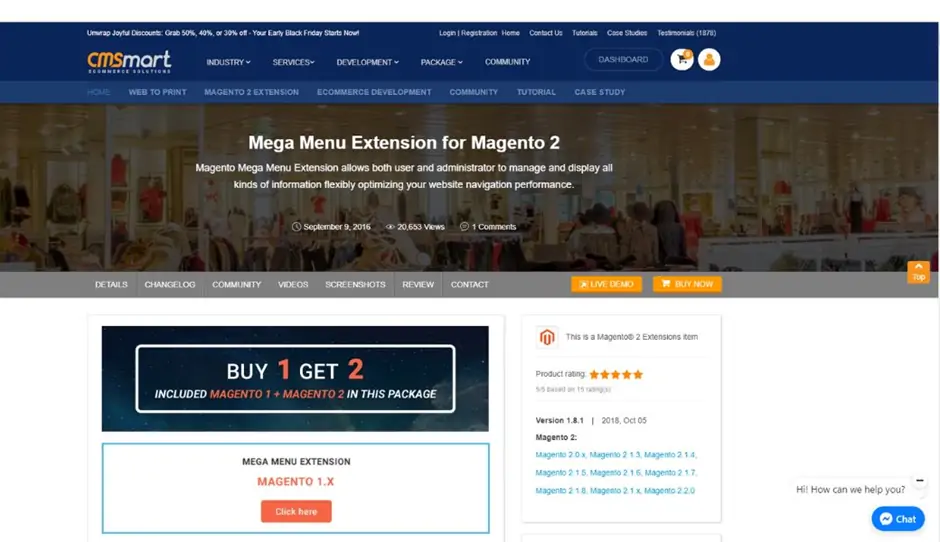 Magento Mega Menu by Magetop is a great tool that brings you powerful features with a super diverse menu system, elegant interface, and optimal customization methods. No longer having to worry about complicated application setup, adding and removing items in just a few double clicks, Magetop Magento 2 Mega Menu Extension is a must-have plugin to take your store to the next level. No matter what industry you work in, Magetop Magento Mega Menu extension gives you the flexibility to create stunning and professional menus.
Price: $69/month
Highlight features:
Provide users with Drag and drop menu builder panel
Unlimited colors and options
Multiple themes/skins options
Cutting-edge and mordern visual menu builder
Multiple languages
Multiple stores, websites and pages
Support any Magento theme
Compatible with mobile devices
Final Words
Don't let your website be limited by a basic menu. Upgrade your user experience with Magento 2 Mega Menu Extension Free and Paid. Take advantage of Mega Menu's rich and diverse features to create an impressive and customer-attracting website. Contact us today for more information and start enhancing your Magento 2 user experience.