SpaceX launched its Starship megarocket, the most powerful rocket on Earth, on its second test flight this weekend, and while the vehicle may have met an explosive end, its flight absolutely amazing to behold. 
Stunning photos and video by SpaceX, Space.com, news wires and the public show the sheer spectacle of the Starship second test launch, which SpaceX launched early Saturday (Nov. 18) from its Starbase facility near Boca Chica Beach in South Texas. 
In a big milestone for SpaceX, the rocket's two stages separated successfully. The Super Heavy booster exploded shortly thereafter, while the Starship upper stage detonated before completing its launch burn. Still, SpaceX hailed the second test flight, which reached space and flew higher, farther and longer than a debut launch in April, as a success and will now study the flight to make any enhancements needed for the next launch.
Related: SpaceX Starship launches on 2nd test flight, but explodes
"Seeing Starship launch in person was incredible," Space.com's Josh Dinner said of the sight.
Dinner captured photos of the Starship launch from South Padre Island's Cameron Country Amphitheatre, where throngs of spectators gathered well before sunrise to pick a great spot to watch the launch.
"Even from 5 miles away, you could see the sheer power from the engines as it cleared the launch tower," Dinner said. "It was massively impressive."
Related: NASA chief congratulates SpaceX on Starship's explosive 2nd launch test
Photojournalist Timothy A. Clary with the news agencies AFP and Getty Images, also captured stunning photos of the Starship launch, including close views of the rocket's liftoff and ascent just before stage separation.
Some of the most amazing early photos came from SpaceX itself, which captured the specific moment of stage separation, which tested a hot-staging technique —something new for Starship on this flight — in which the upper Starship upper stage fired its engines before pulling free of the Super Heavy first-stage booster.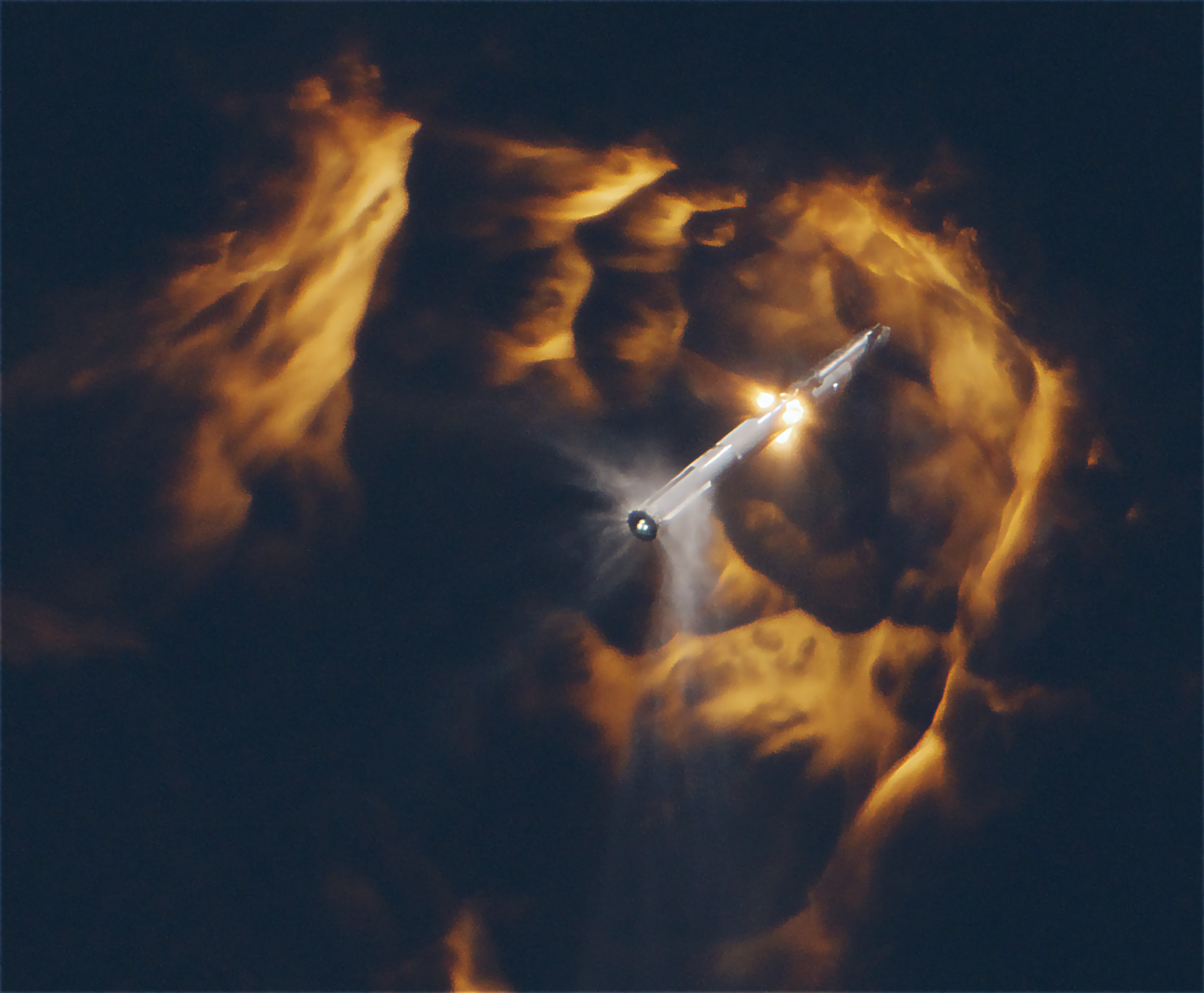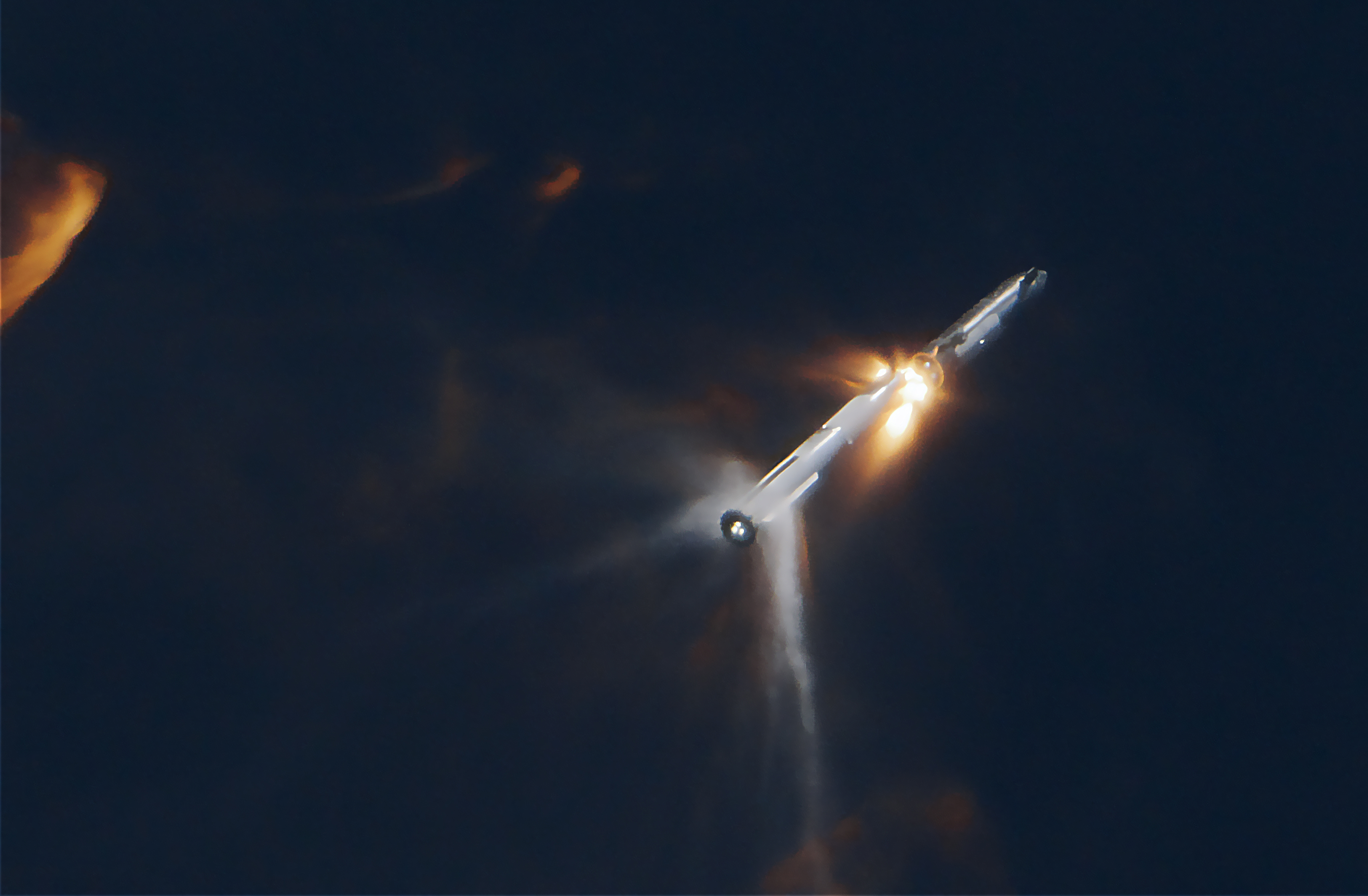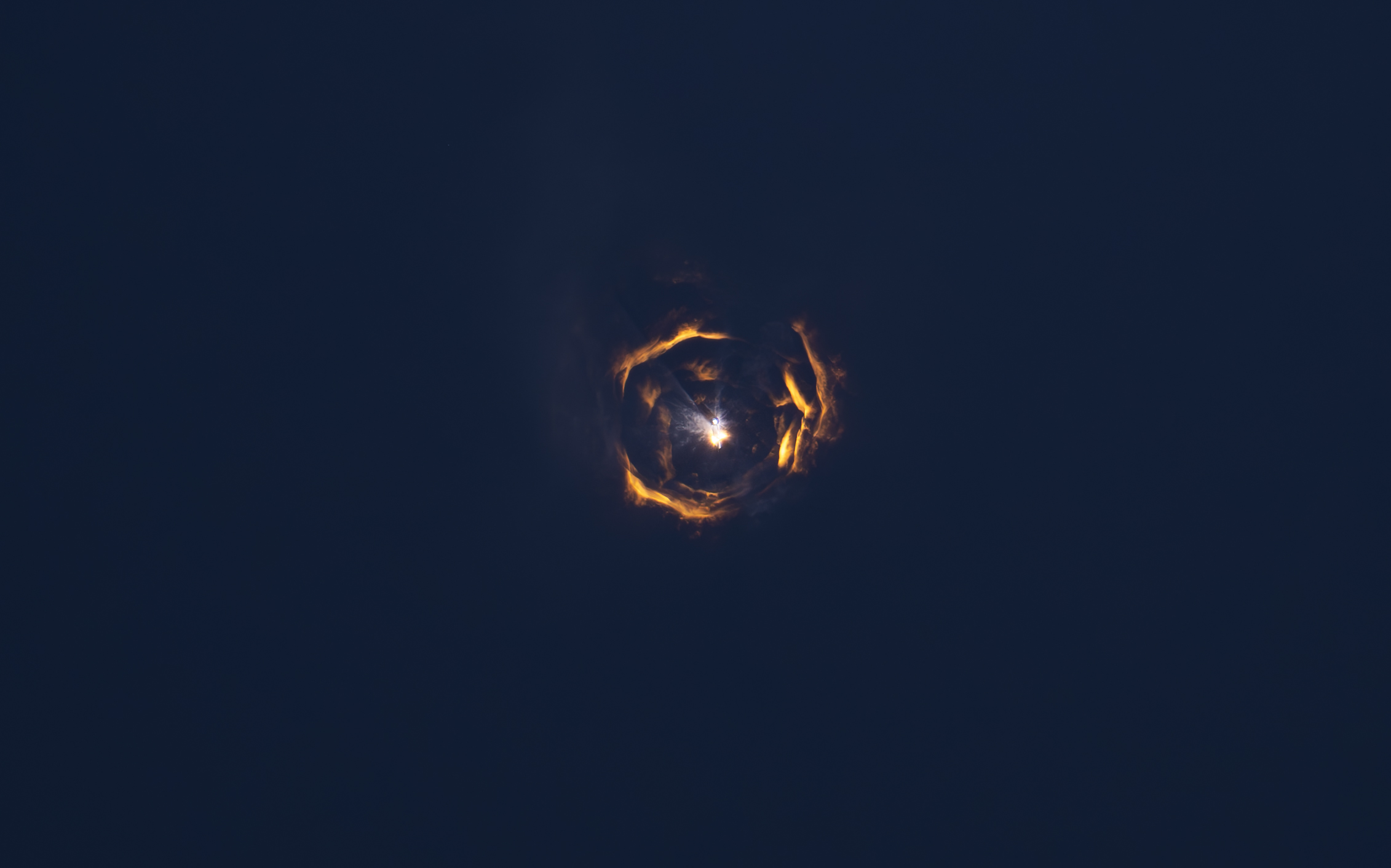 SpaceX and Dinner also captured some great closeups of the joined Starship and Super Heavy, which together stand nearly 400 feet (122 meters) tall, as they soared over the Gulf of Mexico.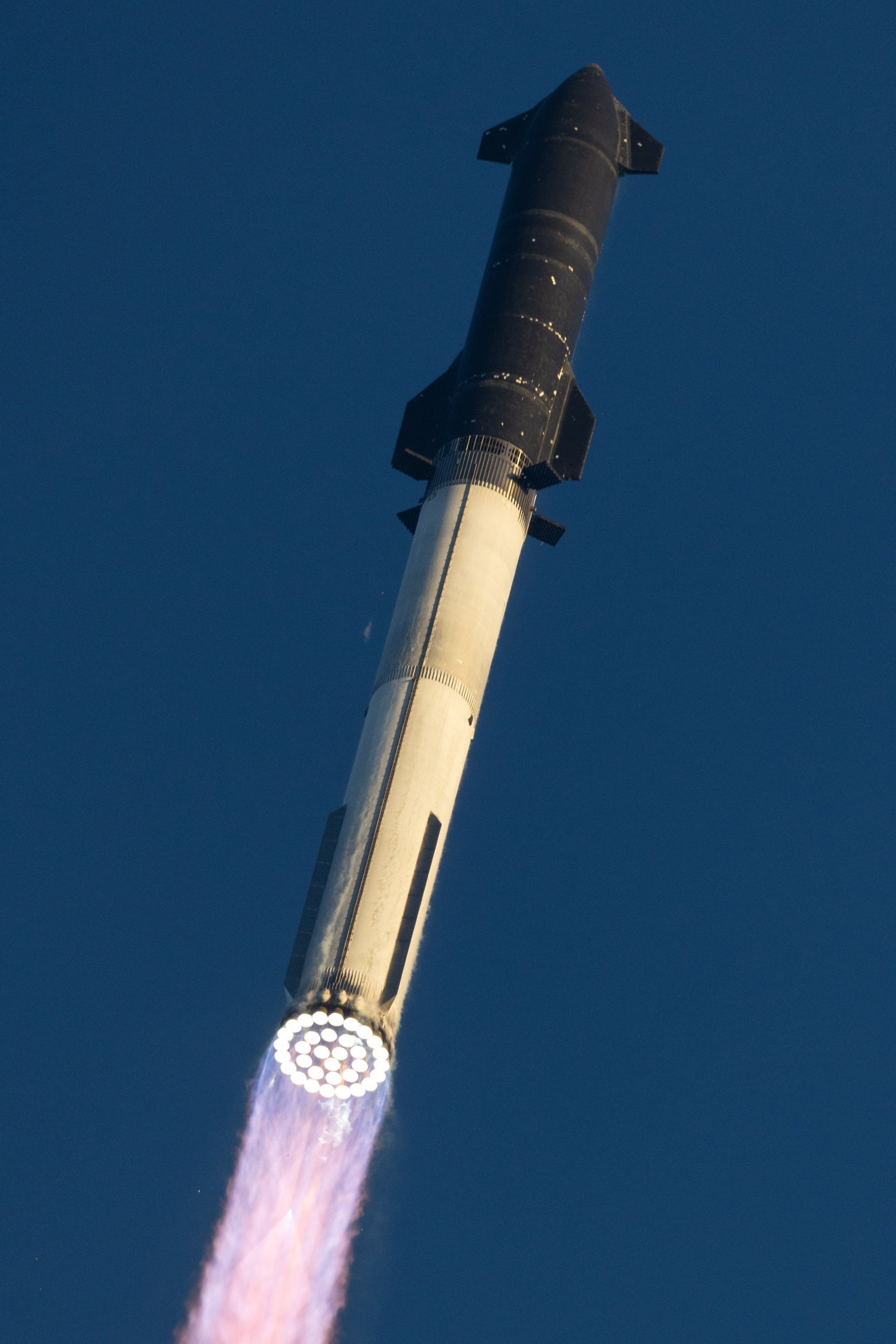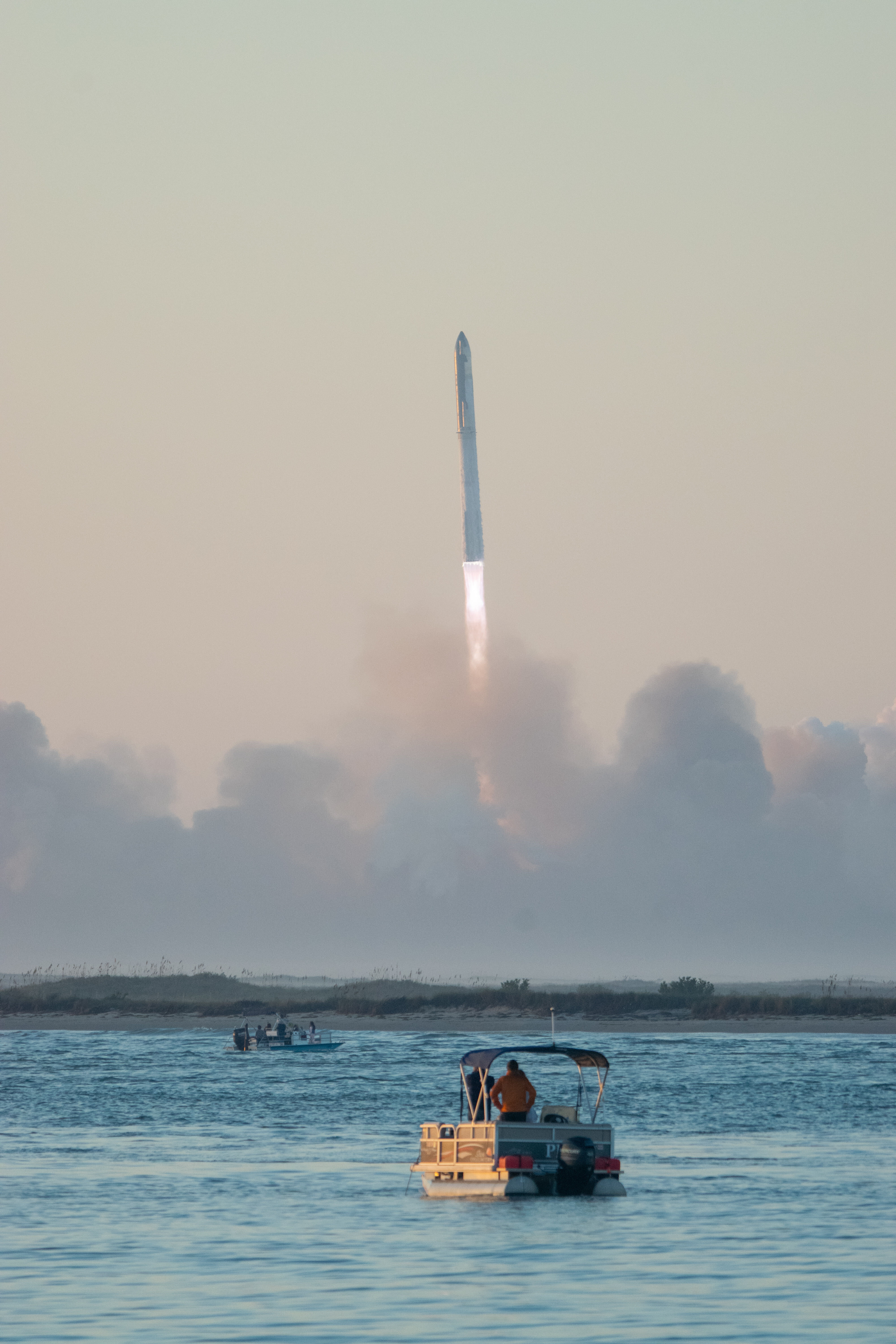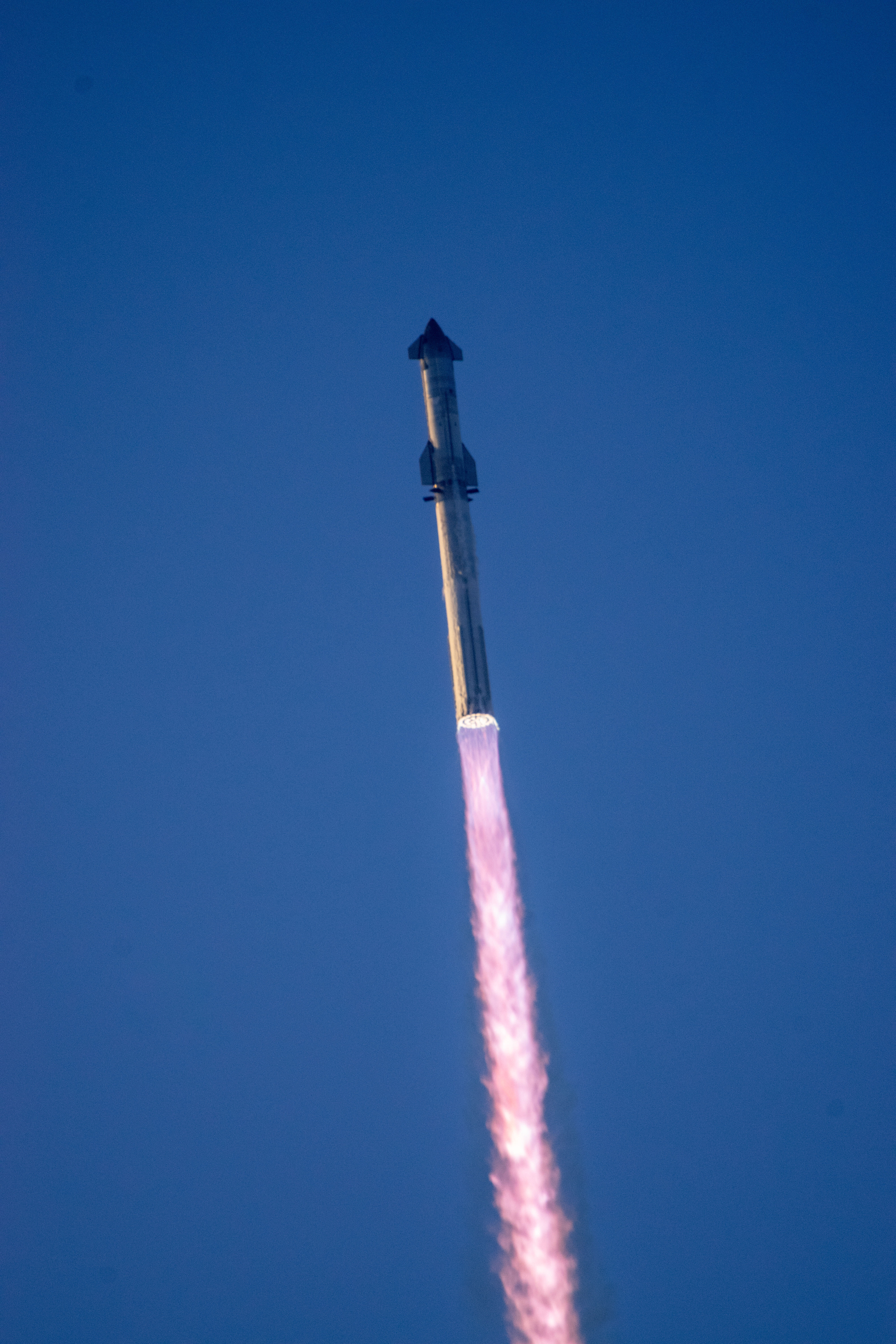 Shortly after stage separation, the Super Heavy booster exploded in what SpaceX called a "rapid unscheduled disassembly." The company will now work to understand what led to this failure after the hot staging and how to avoid it on the next test flight.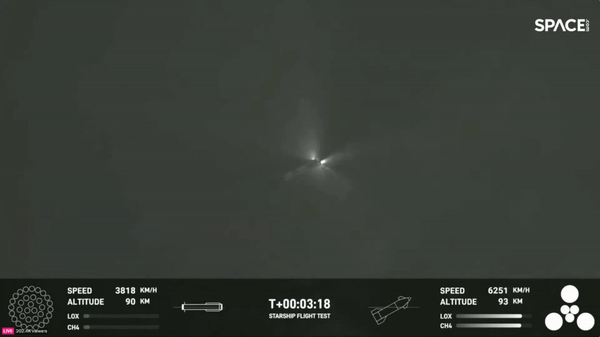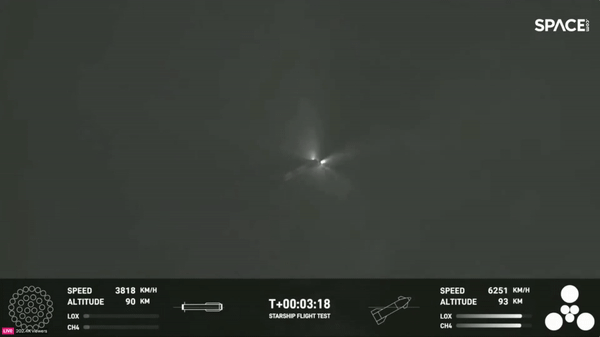 Across the social media site X, formerly known as Twitter, spectators and photographers appeared thrilled to have witnessed the Starship launch test. 
VIDEO & incredible sound: Watch from just under four miles away as Starship launches on its second fully-integrated flight test from Starbase.Thank you to the @NASASpaceflight team for hosting me at this amazing location. Great shooting with @thejackbeyer and @SeanKD_Photos! pic.twitter.com/hc887qYzAMNovember 18, 2023
See more
Another shot of today's Starship launch. I'm still at a loss for words. What an incredible launch, and to take place at such a beautiful time of day… wow, wow, wow. pic.twitter.com/6b41Kfj7n5November 18, 2023
See more
LIFTOFF! What incredible sight as @SpaceX successfully launches the second test flight of Starship from Starbase.📸 me for @SpaceflightNow pic.twitter.com/fJZh7oO82QNovember 18, 2023
See more
But some of the most telling images came from after the launch, when photographers were able to visit the launch pad and report it in good condition. 
During SpaceX's first launch test on April 20, the Super Heavy booster carved out a huge crater beneath the pad, requiring extensive repairs. For the second flight, SpaceX installed a water deluge system and protective metal plate to safeguard the pad.
The pad at Starbase appears to be in good condition following this morning's Starship launch! The road to the beach is open. pic.twitter.com/jBwHisakv5November 18, 2023
See more
"The pad at Starbase appears to be in good condition following this morning's Starship launch!," wrote photographer John Kraus on X. "The road to the beach is open."
Here are some more pad views from photographers. 
Not bad here on the pad, #SpaceX #Starbase #Starship #Superheavy pic.twitter.com/3tgy7FmucFNovember 18, 2023
See more
Some spectators watching Starship's second test flight included people who have not only flown in space before, but actually launched on SpaceX rockets. 
Sian Proctor, who launched to orbit in September 2021 a SpaceX Falcon 9 rocket and Dragon capsule on the private Inspiration4 mission financed by billionaire Jared Isaacman, sent congratulations to the entire SpaceX team for the launch.
Amazing to see the @SpaceX #Starship launch with my friends @b_belvisi and @SpacePadreIsle!! Big thank you to my friend and mentor @RichardGarriott and his brother Robert for making this all possible. Congratulations to all of the people at SpaceX on continuing to make history in… pic.twitter.com/V2HZi188ywNovember 18, 2023
See more
"Congratulations to all of the people at SpaceX on continuing to make history in the advancement of humanity to the Moon, Mars and beyond!!" Proctor wrote on X.
SpaceX engineers now have the task ahead to understand why the Starship vehicle detonated itself using its flight termination system just before completing its launch burn. The company has said it will also study Super Heavy's explosion so future iterations of the vehicle can be returned to Earth for reuse, as it and Starship are designed to do.
"Honestly, it's such an incredibly successful day even though we did have a rapid unscheduled disassembly of both the Super Heavy booster and the Ship," SpaceX quality engineering manager Kate Tice said during the live webcast. "That's great. We got so much data, and that will all help us to improve for our next flight."
NASA has picked SpaceX's Starship to land astronauts on the moon on the Artemis 3 mission, which the agency hopes to launch by 2025 or 2026. Meanwhile, SpaceX has already sold trips around the moon on Starship to commercial customers, such as Japanese billionaire Yusaku Maezawa, and hopes to use the vehicle for deep space flights to Mars and other solar system destinations.