Samsung has unveiled its latest innovation, the T5 EVO portable Solid-State Drive (SSD). This new product represents a significant leap forward in SSD technology, offering a remarkable storage capacity of up to 8 terabytes (TB), the largest currently available in the market. With its high capacity, fast data transfer speeds, compact and durable design, the T5 EVO is not just about large storage capacity. It is designed to be a substitute for traditional hard disk drives (HDDs), providing speed, durability, and a compact design that make it ideal for a variety of applications.
The portable SSD uses USB 3.2 Gen 1, enabling it to transfer data up to 3.8 times faster than external HDDs. This translates to sequential read and write speeds of up to 460 megabytes per second (MB/s), a feature that is sure to appeal to users who require fast, efficient data transfer.
The T5 EVO's design is ergonomic and user-friendly measuring 95 mm in width, 40 mm in length, and 17 mm in thickness, and weighing just 102 grams. It has a black body and a metal ring design makes it easily attachable to a bag or luggage for enhanced portability. The device also boasts a metal body and rubberized surface, providing protection against external shocks and ensuring the durability that users have come to expect from Samsung products.
SSD T5 EVO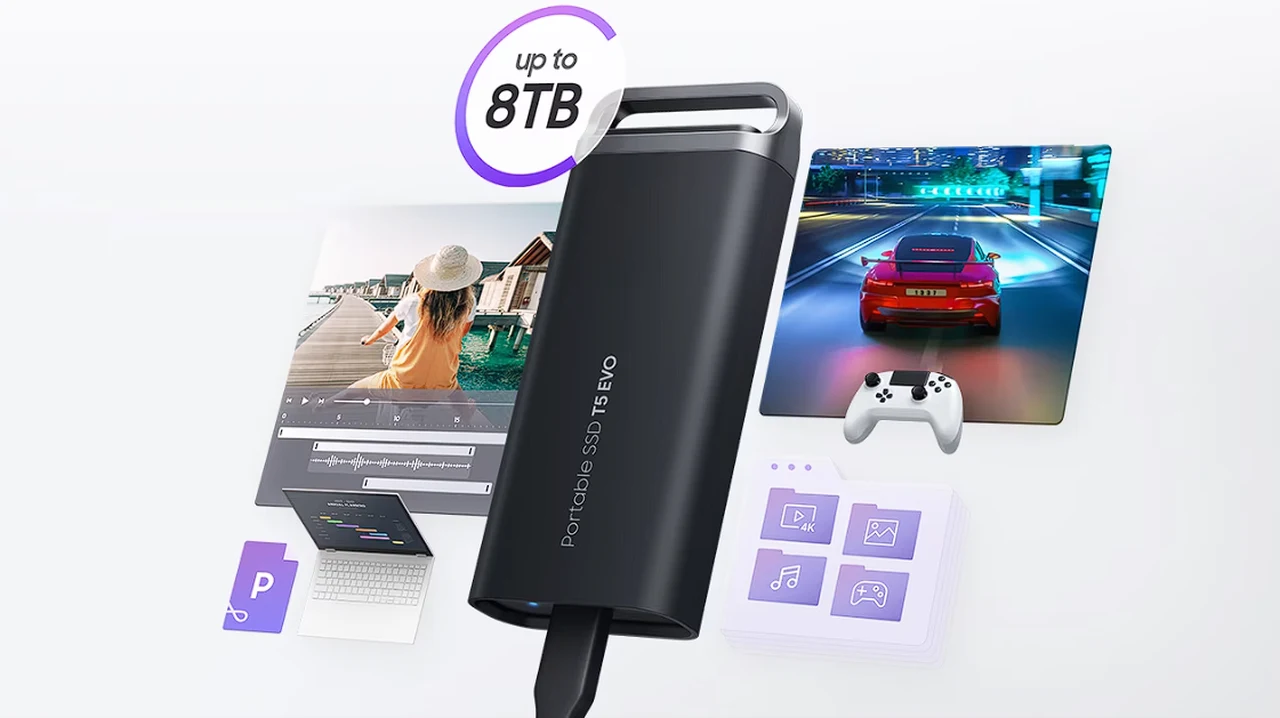 The T5 EVO's large storage capacity is one of its standout features. With the ability to store up to 8 TB of data, it can accommodate large files, high-resolution videos, photos, and games. This makes it an excellent choice for professionals who need to store and transport large amounts of data, as well as for consumers who want to keep their digital memories and entertainment files safe and accessible.
Safety is a key consideration for Samsung, and the T5 EVO is no exception. The device features thermal guard technology to protect against overheating, ensuring that your data is safe even under heavy use. In addition, it supports Advanced Encryption Standard (AES) 256-bit hardware data encryption, providing an extra layer of security for your precious data.
Portable SSD drive
The T5 EVO is not just a high-capacity, high-speed SSD. It is also designed to be compatible with various operating systems and devices. Whether you're using macOS, Windows, smartphones/tablets, or gaming consoles, the T5 EVO is designed to work seamlessly with your device. It also features Samsung Magician software for easy drive management, making it a versatile tool for all your storage needs.
The T5 EVO is available in 2 TB, 4 TB, and 8 TB sizes, with prices ranging from $189.99 to $649.99. It comes with a three-year limited warranty, providing users with peace of mind about their investment. With its large storage capacity, fast data transfer speeds, compact and durable design, and extensive compatibility, the T5 EVO is a testament to Samsung's commitment to innovation and user-friendly design. Whether you're a professional needing to store large amounts of data or a consumer looking for a reliable and portable storage solution, the T5 EVO is a worthy contender.
Source : Samsung
Filed Under: Hardware, Top News


Latest aboutworldnews Deals
Disclosure: Some of our articles include affiliate links. If you buy something through one of these links, aboutworldnews may earn an affiliate commission. Learn about our Disclosure Policy.