Streamers and vloggers who use their phones to create videos might be interested in a new wireless lighting system, the Lume Cube Ring Light Pro. The professional ring light is now available in white. It has been specifically designed to provide an easy-to-use phone ring light, blending advanced technology with user-friendly features for superior lighting in a variety of environments.

The Lume Cube Ring Light Pro features Edge-Lit Technology, wireless remote controls, an adjustable stand, and USB charging ports, making it a versatile tool for your video recording needs. Edge-Lit LED technology ensures balanced and diffused lighting, evenly spreading the light source across the filming area. This is particularly beneficial for long-term workspace lighting, where maintaining consistent and comfortable illumination is crucial.
The phone ring light comes with a built-in lithium-ion battery, a rechargeable power source for cordless operation. This greatly enhances the portability of the ring light, making it a perfect choice for professionals who need a reliable lighting solution on the go. The Lume Cube Ring Light Pro also includes wireless remote controls, giving users the ability to adjust the light settings without physically interacting with the phone ring light. This adds a significant level of convenience, especially when the phone ring light is positioned at a distance or in hard-to-reach areas, allowing for easy control over the lighting conditions.
Lume wireless phone ring light
The Lume Cube Ring Light Pro's adjustable stand is another key feature. The stand can be adjusted from 18" to 70", offering flexibility in positioning the light source according to the user's needs. This is further enhanced by a 360º rotating phone mount and a built-in camera mount, which provide versatile options for placement. The Lume Cube Ring Light Pro also offers customizable color temperatures, ranging from a cool blue to a warm amber. Combined with adjustable brightness controls, users can tailor the lighting conditions to their specific needs, ensuring optimal lighting for every situation.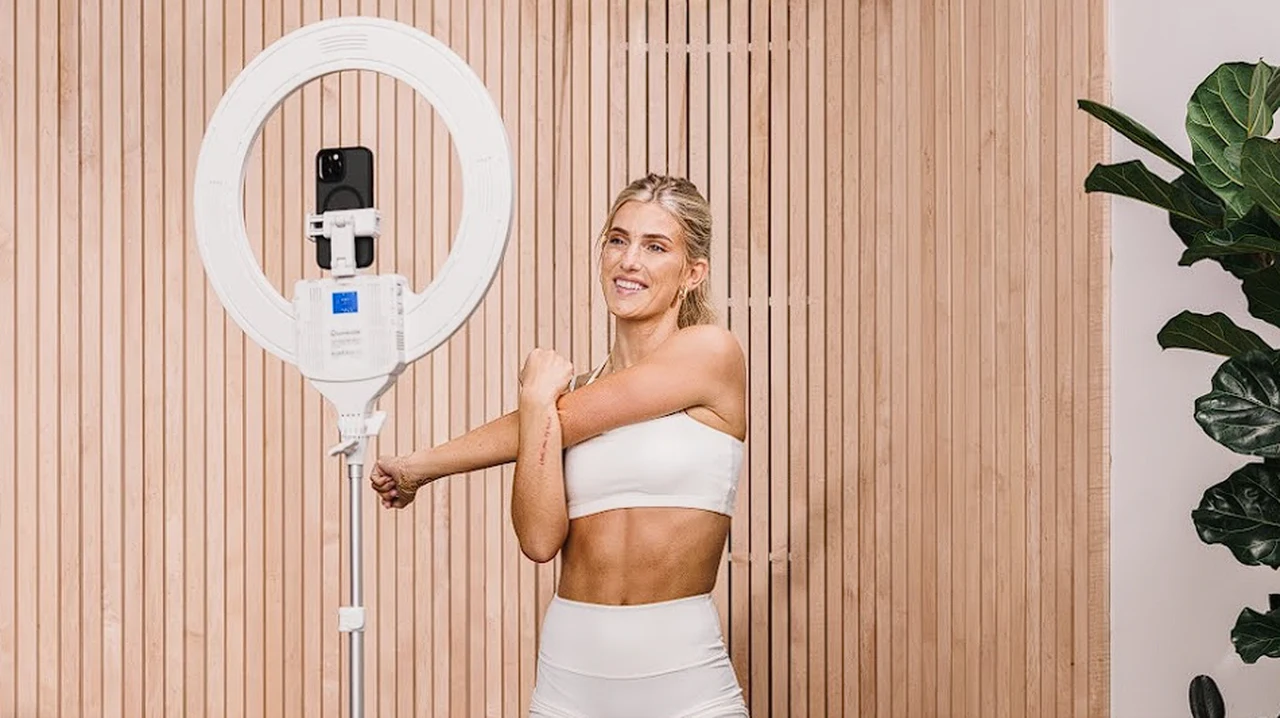 The phone ring light also includes USB and USB-A charging ports, allowing users to charge their devices directly from the ring light. This is particularly useful in workspace settings, where multiple devices may need to be charged at the same time, adding to the phone ring light's practicality.
The latest Lume phone ring light is lightweight and portable, an ideal choice for professionals on the move. It comes with a collapsible light stand and a travel case, further enhancing its portability and ease of transport. The Cube Ring Light Pro is a versatile, user-friendly, and technologically advanced lighting solution. Its range of features, including Edge-Lit LED technology, remote controls, an adjustable stand, and USB charging ports, make it a valuable tool for a variety of lighting needs. Whether for long-term workspace use or on-the-go professional needs, the Lume Cube Ring Light Pro delivers powerful, safe, and comfortable lighting, making it a reliable choice for all your lighting needs.
Filed Under: Camera News, Top News


Latest aboutworldnews Deals
Disclosure: Some of our articles include affiliate links. If you buy something through one of these links, aboutworldnews may earn an affiliate commission. Learn about our Disclosure Policy.