Google has launched new generative AI capabilities in its Performance Max advertising product.
Currently rolling out in beta to all U.S. advertisers, the features will allow you to create and scale new text and image assets for your campaigns using AI.
Performance Max, first introduced in 2021, is Google's AI-powered solution spanning search, YouTube, display, and other Google inventory. The platform analyzes performance data to optimize ads and now leverages generative AI to assist asset creation.
How Will Generative AI Help?
Asset Generation
As described in a recent blog post by Group Product Manager Pallavi Naresh, the new features will help marketers quickly generate high-quality, personalized assets to reach customers across Google's formats.
"Asset variety is a key ingredient for a successful Performance Max campaign. You've told us that creating and scaling assets can be one of the hardest parts of building and optimizing a cross-channel campaign," Naresh wrote. "Now, you'll be able to generate new text and image assets for your campaign in just a few clicks."
After prompting, the AI will create unique images and text tailored to each business. Google states advertisers will always be able to review and edit any generated assets before publication.
More Creative Control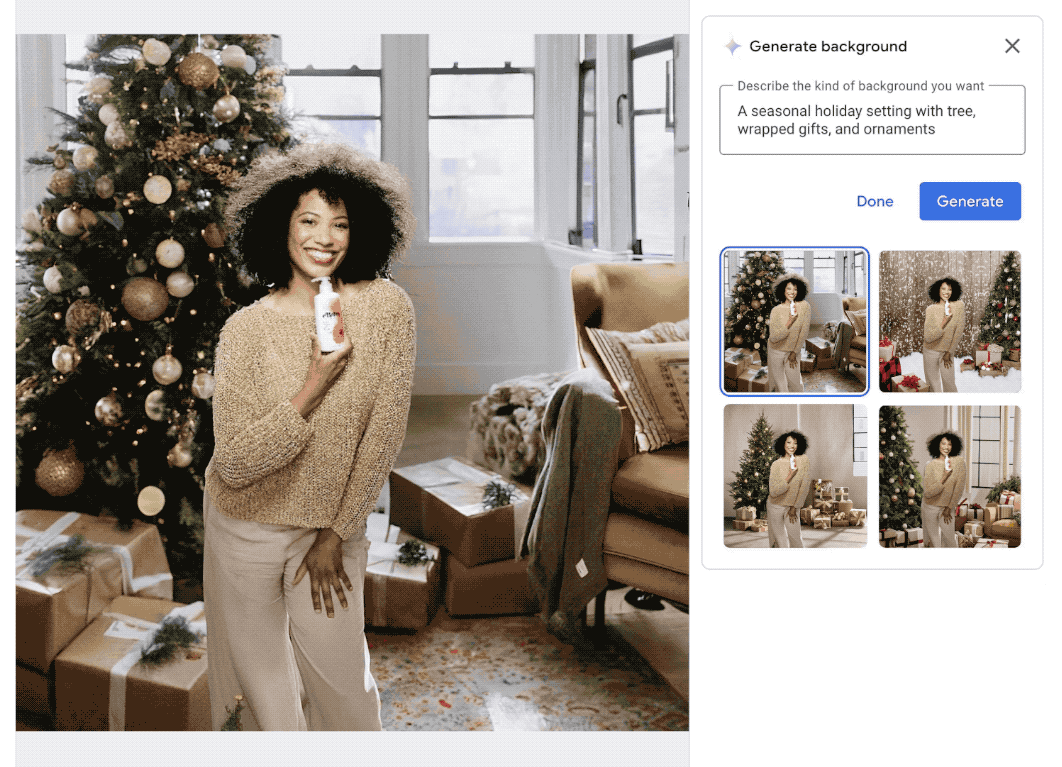 In addition to asset generation, the platform will provide AI-powered image editing capabilities to enhance new and existing creative. For example, Google's announcement describes an agency testing different winter background scenes for a client's product images.
Advertisers with existing assets can use the features to easily ideate variations, while those starting from scratch can leverage AI to build out initial concepts. All generated imagery will be visibly watermarked and tagged as AI-created.
Ensuring Responsible AI Use
Google says its generative AI features abide by internal AI principles, preventing policy-violating or insensitive creatives. As with current processes, human review and enforcement actions will continue to ensure policy compliance.
The capabilities mark Google's latest integration of generative AI into its marketing products after demonstrations at its Marketing Live conference earlier this year. The features aim to streamline creativity and production for Performance Max campaigns of all sizes.
The generative AI beta is currently limited to the U.S. but is expected to roll out more widely before the end of 2023.